Push-pull pots
Push-pull pots are pots with a built-in switch, generally used in guitars and basses.
These are available eg from Mouser or from potentiometers.com (who can supply with expensive custom pots).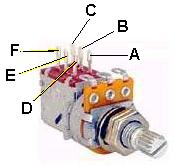 The switch is on the bottom of the pot, and has lugs that I will label A-F :
when you pull the switch the connection changes from B-C to B-A, and E-F to E-D.
Use your meter's continuity setting to confirm your switch works the same way.
The "middle" lugs (B & E) are the constant, the "outside" lugs ( A & C, D & F) are the connections you switch between. (from Deaf-Eddie's page)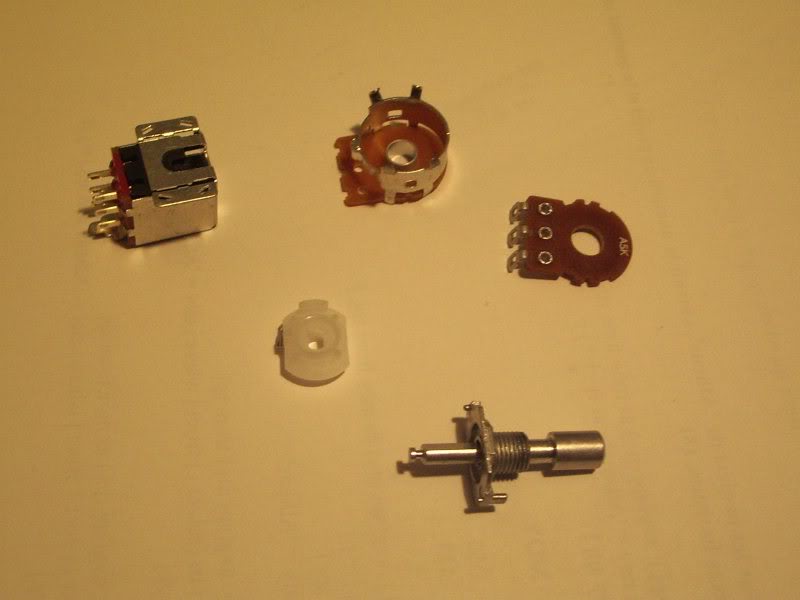 Some value seem hard to find for push-pull, a solution is to buy
common pots of the same type
and to replace the push-pull pot's resistive track.
Push-pull pots are easy to disassemble, but the common pots don't (I had to break the shaft to get the part).
This allows having any value you could want.
Warning - disclaimer



All modifications are at

your own risk

and I assume

no liability

for personal injury or damage to equipment or loss of use caused directly or indirectly by the use of any info shared in these pages.
Although these modifications are quite simple they should only be performed by those

experienced

in electronics

with access to at least a good

oscilloscope

and

frequency meter

, some will need a recalibration of the Synthi.
Do not attempt otherwise.

EMS PCBs are very fragile,
to avoid damaging the tracks do
not use a too hot soldering iron (I set mine to 315°C).

Creative Commons - by-nc-nd 3.0