The 208 ToolBox and BOB expander


Add new inputs and outputs to your Music Easel easily and expand its potential without any modification.
Just plug, play and explore new deepnesses within your Easel. It couldn't be more simple.
The 208 ToolBox and BOB expander work with the original Music Easel, 208r rev2/2.1 clone and BEMI Music Easel, Easel-K or LEM-208.
They
do NOT work with the 208r rev1 clone, the card slot pinout is not compatible, d
o not attempt.
The
perfBOB
works with any 208.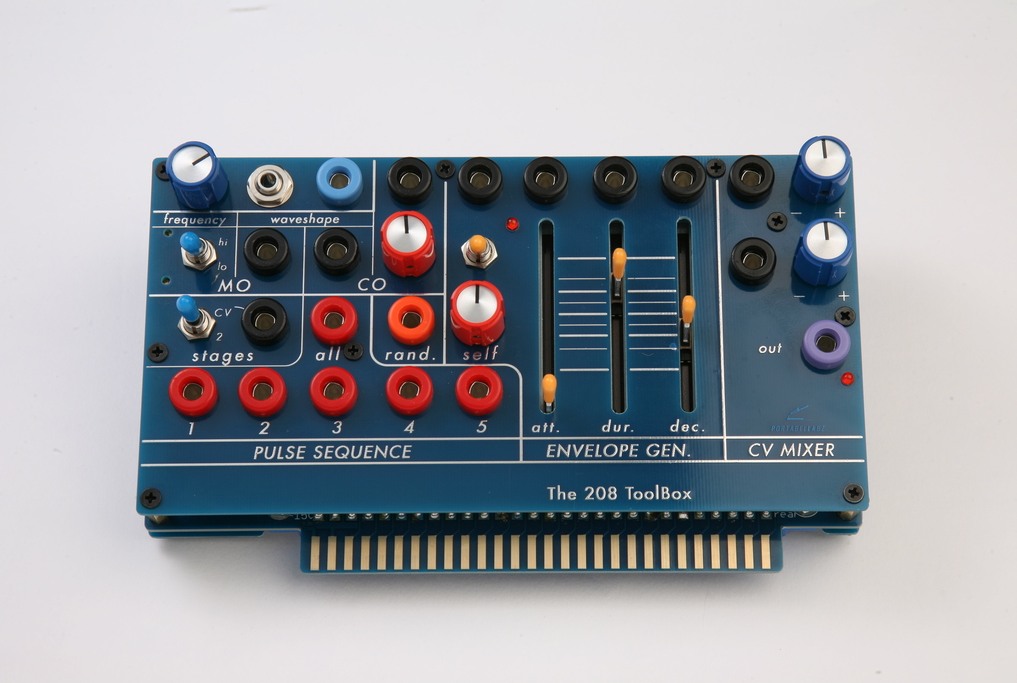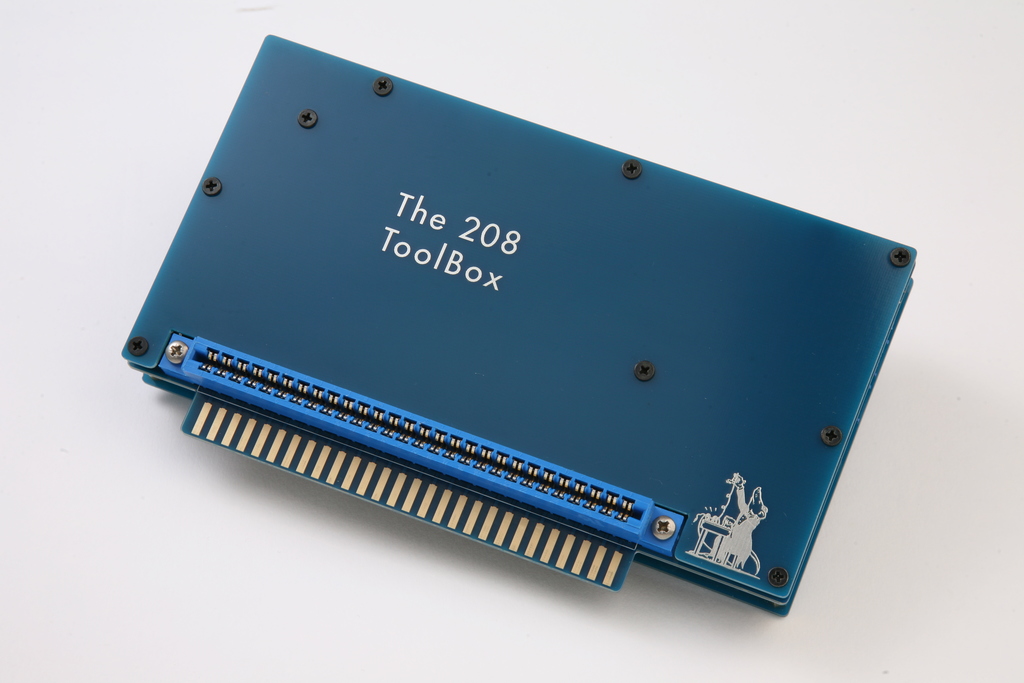 More pics
Many thanks to
Vanessa Vanderkelen
for the nice pics

Standard features :

- gold plated connector

- envelope times variable CV inputs with sliders
- switchable envelope looper with a pot delaying the retrig (like the "off" on Synthi, max delay time is about 7 sec) with CV input (thanks to a jumper the pot course can be selected : longer time fully CW or CCW), a LED shows the retrig pulse signal
- envelope trigger banana input (the socket is shared with the looper delay CV input, selection with internal switch)
- gate to trigger converter circuit to have the envelope working in transient mode with any pulse (can be bypassed if desired)

- CO waveshape amplitude variable CV input with pot
- CO waveshape switch CV

- MO hi/mid/lo range switch with multiturn trimmer allowing accurate transpose
- MO waveshape switch CV

- sequencer 2 stages or CV input switch
- individual gate output for each sequencer stage
- trigger output for all sequencer stages activated with the 208's pulse sequence switches

- random trigger input

- 2 way CV mixer with attenuverters and a LED for level display, a 3rd input can be added


- optional rear female edge connector to connect a program card, iProgram card, Easel Aux Card or other modules to come

- 3 unused emplacements in the top left corner for banana, switch, tinijax, minijack... and perfboard on the PCB to add other features and match each one's own needs
, the "to prog" panel sockets can be used as well of course, up to 5 custom connections and extra circuits are possible



Optional features examples :
sequencer pulse in

pulser pulse in
pulser trig out (a short trig, not the ramp available on yellow sockets)
pulser inverted out

envelope pulse in
envelope trigger out
envelope inverted out

MO modulation switch CV
LPG1 mode switch CV
LPG2 mode switch CV
LPG2 signal routing switch CV
banana / tinijax converter

banana / mini jack converter

oscillator
slew limiter
noise
random voltage generator
sample & hold

voltage inverter



Feel free to ask for other options you have in mind. Reverb mix and outputs levels cannot be controlled via the 208 ToolBox, these settings are not voltage controllable in the 208's original design.



BOB expander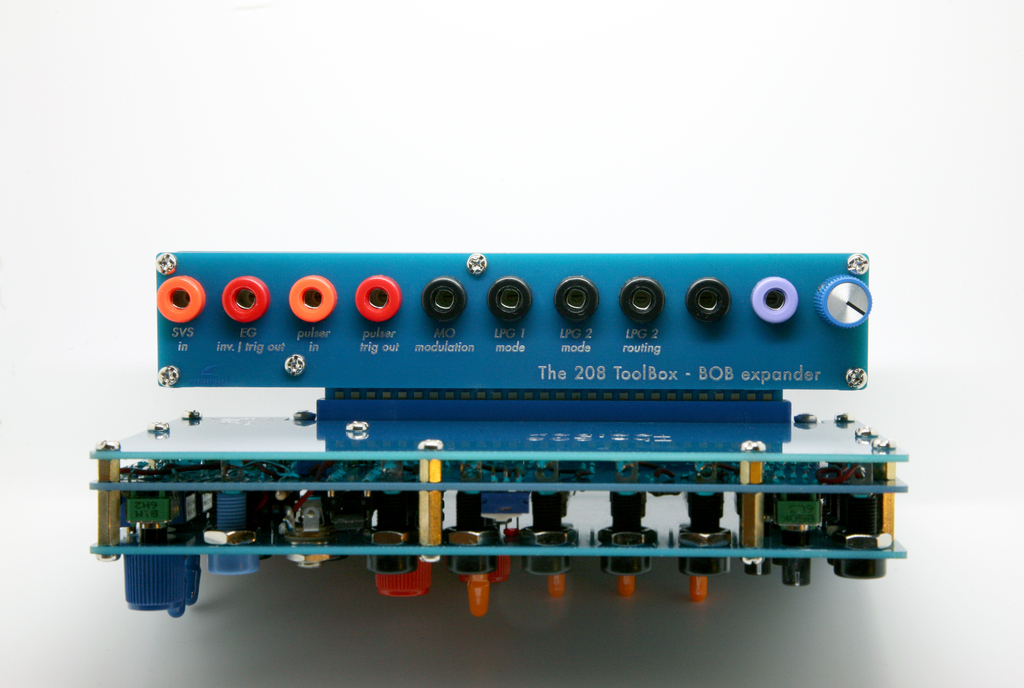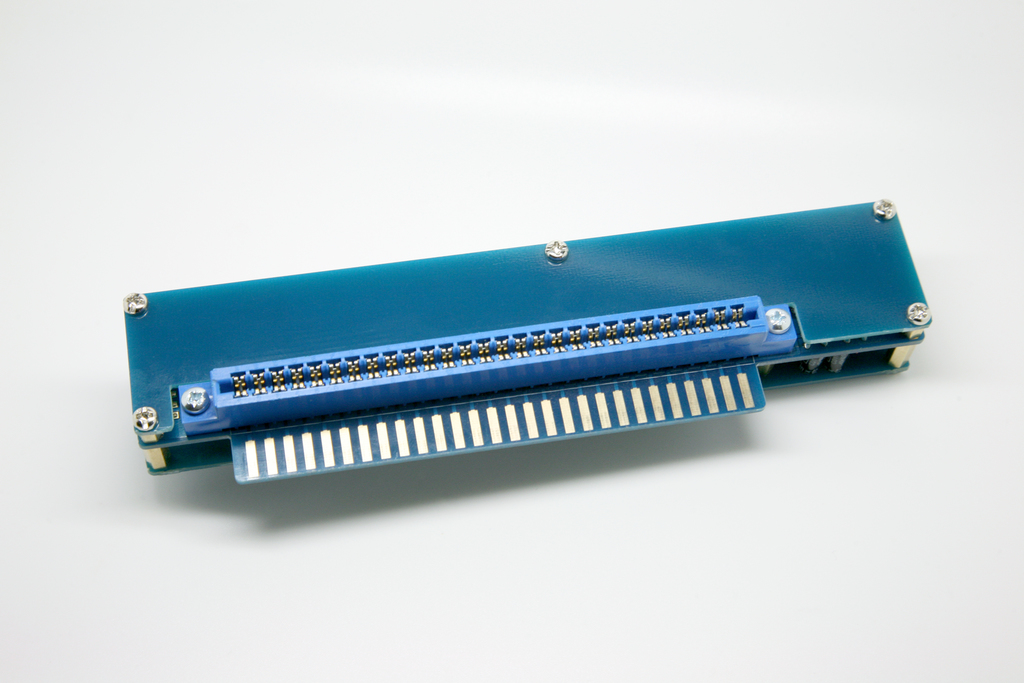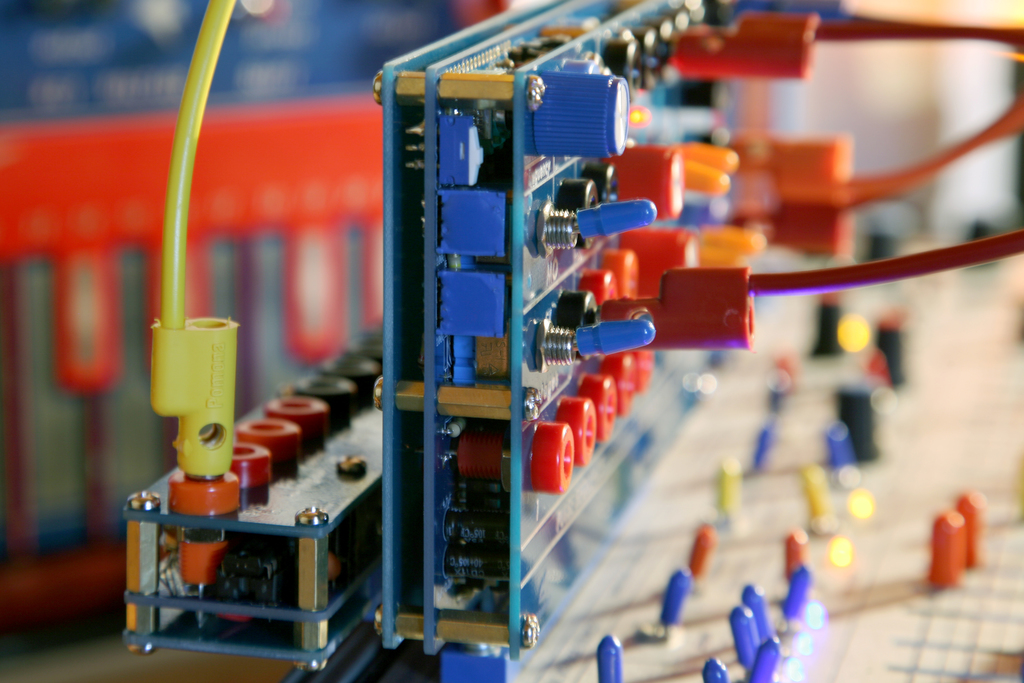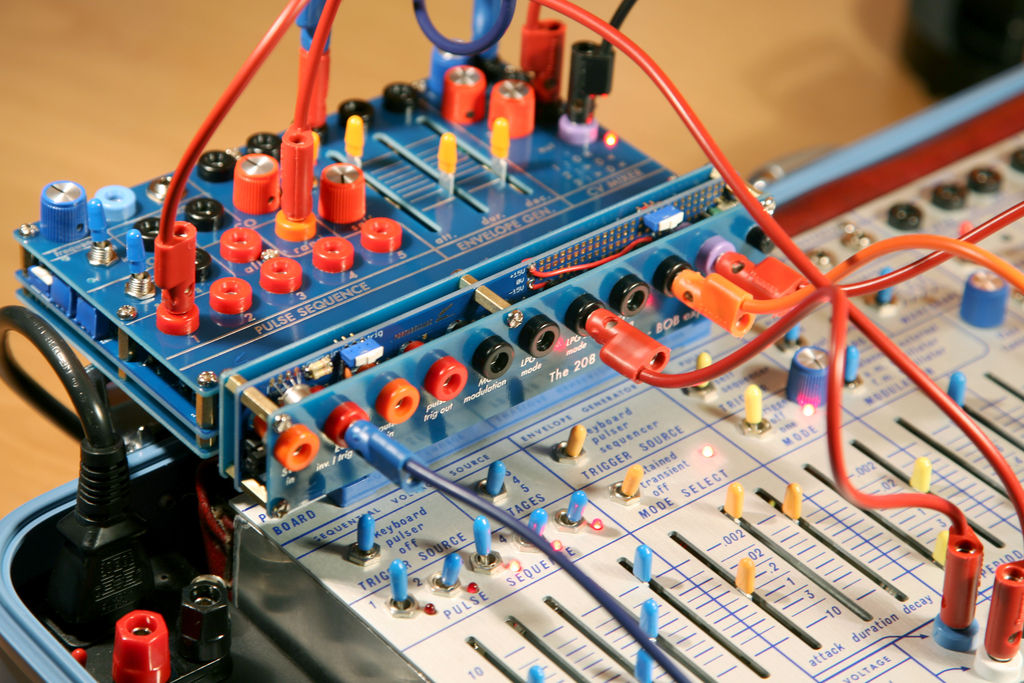 More pics
Many thanks to

Vanessa Vanderkelen for the nice pics

All routing options together are possible thanks to the BOB expander.
It can be plugged into the ToolBox's rear edge connector or standalone into the 208.
The BOB expander has its own
optional

rear female connector to host the ToolBox plugged horizontally (an extra support is recommended to relieve the edge connector) or other card.

Overview - many thanks to Bill Sequeira

Standard features :

- 3 customisable places with perfboard like on the ToolBox
perfBOB - the 100% custom BOB expander



Design with the features you want and without the ones you don't want, simple routing or more elaborated circuits.
As nothing is wired, the perfBOB is a good solution to expand the 208r rev1 possibilities, within the limitations due to the rev1 design of course.
Features :


- gold plated connector
- large perfboard area
- places for 2 pots
- place for rear edge connector
- 7 x 8mm holes for banana sockets
- 4 x 1.5mm guide holes
- white panel to ease labeling

How to get your 208 ToolBox or BOB expander ?
- Contact me for a custom built unit, price is in the 400\80 range for a ToolBox and in the 120\80 range for a BOB expander,
depending on the optional features.



- DIY 208 ToolBox PCB set (circuit, front and rear panels) including worldwide tracked shipping.
- DIY BOB expander PCB set (circuit, front and rear panels) including worldwide shipping.

- DIY perfBOB PCB set (circuit, front and rear panels) including worldwide shipping.
- DIY
kits from SAmodular (Germany) or SynthCube (US).
I do not supply with kits
or parts myself.




Docs and support

Please doublecheck that the
BOM and

build notes you have are the latest revision
and match your PCB revision.

Thanks for looking and have fun with your expanded 208 !


I assume no liability for personal injury or damage to equipment or loss of use caused directly
or indirectly by the use of the 208 ToolBox and BOB expanders.

Although 100% safe with any 208, the 218e and any other 200e modules could be damaged if you send an audio signal or a negative CV to a CV or pulse input banana.
The ToolBox's CV mixer and BOB expander's envelope inverter are able to output negative CV therefore do not patch these to a 200e module.
A schottky diode added in series with the 218e or other 200e module's input bananas is a straightforward easy to DIY protection from accidental negative CV / audio patching.

If you have a question or problem, please first check the FAQ before contacting me.

The DIY solutions are for
experienced

people able to read and understand the build notes,
to solder neatly and to troubleshoot their own build.
Circuits on the perfboard should be built only by those experienced in electronics. A wrong build or connection might cause serious damage to your instrument in a very short time.
Although I'm happy to help, I can't offer free support on all issues.
Please understand remote troubleshooting of a wrong build can be difficult and time consuming.
In case of unsolvable problem, I could accept to service your unit if it's shipped to me.
I'm constantly improving my designs taking into consideration the users feedbacks or my own experience and
some changes might occur without notice and can't be subject to complaint.
I'm happy to answer any question, feel free to ask before ordering.

The pics are for illustration purpose only and the actual units can vary according to the options.